Workshops & Classes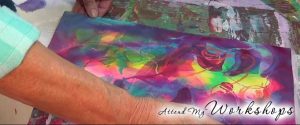 Workshops can be scheduled for your group in one-day or several-day segments. Contact me at 623-487-4031 or email me at nancy@nchristy.com for further information and scheduling.
Ready to expand your watercolor journey? "FUN WITH MIXED MEDIA AND RICE PAPER COLLAGE
is an excellent venue for both beginners and advanced watercolorists, offering creative play with delicate rice papers combined with mixed media techniques with inks, enamels, oil pastels and more. After this workshop you will never again consider a failed watercolor anything but a new beginning.
POSSIBILITIES WORKSHOP
Usually a 2 to 4 day workshop covering textures and mixed media, pouring water based pigments (acrylic inks and fluid acrylics). Emphasis on imagination and content to fulfill your painting's purpose . Groups can schedule, or up to 2 students in my private studio for this workshop.
 WORKSHOPS & DEMOS
PRIVATE CLASSES BEING SCHEDULED NOW! Contact us at 623-487-4031 for individual or group classes! $20/hr, minimum 3 hours
FUN WITH ALCOHOL INKS ON TILES CLASS,
Private scheduling at Surprise Studio. $60 fee includes all materials. Arrange with Nancy and register with her by email: nancy@nchristy.com or phone: 623-487-4031. Class is limited to 5 students.