Workshops & Classes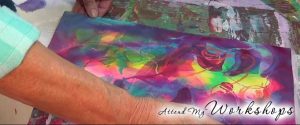 Workshops can be scheduled for your group in one-day or several-day segments. Contact me at 623-487-4031 or email me at nancy@nchristy.com for further information and scheduling.
Ready to expand your watercolor journey? "FUN WITH MIXED MEDIA AND RICE PAPER COLLAGE
is an excellent venue for both beginners and advanced watercolorists, offering creative play with delicate rice papers combined with mixed media techniques with inks, enamels, oil pastels and more. After this workshop you will never again consider a failed watercolor anything but a new beginning.
POSSIBILITIES WORKSHOP
Usually a 2 to 4 day workshop covering textures and mixed media, pouring water based pigments (acrylic inks and fluid acrylics). Emphasis on imagination and content to fulfill your painting's purpose. Groups can schedule, or up to 2 students in my private studio for this workshop.
2019/2020 WORKSHOPS & DEMOS
FALL FUN WITH ALCOHOL INKS ON TILES AT ARIZONA ART SUPPLY, SUN CITY,
Each class meets from 1:30 – 4:30pm at 10659 W. Grand Ave., Sun City, AZ – all materials are supplied. Cost: $60. Signup with Nancy by calling 623-487-4031; payment in advance. DATES: MONDAY, OCTOBER 14, MONDAY, NOVEMBER 11, MONDAY, DECEMBER 9
FREE DEMO, PHOENIX ARITSTS' GUILD,
Monthy meeting, Monday, April 27, 2020: 6 – 9pm, AAG build, 18411 N. 7th Ave., Phoenix AZ. Demonstrating Negative painting techniques on poured/mixed media paintings(OPEN TO THE PUBLIC)
PRIVATE STUDIO WORKSHOPS & CLASSES
Scheduled to fit your busy schedule, CONTACT me at 623-487-4031 or EMAIL me at nancy@nchristy.com for details and registration. SEE my FREE You Tube Videos at You Tube VideosTo be added to my mailing list for future workshops and exhibits, e-mail me at nancy@nchristy.com.