How did the painting, "Heart to Heart" © Develop?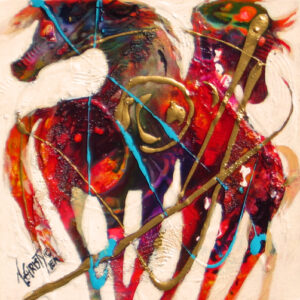 Do you ever wonder how and why certain paintings come to life? "Heart to Heart"© 10 x 10 acrylic/mixed media on gallery-wrapped canvas was started as a demonstration for a private student in my Surprise Studio.  She wanted to learn how to texture  and pour pigments onto a surface to begin a new abstract painting.
Our first step was texturing the canvas with various acrylic mediums, using old credit cards and various texturing and imprinting tools. Here's my textured canvas: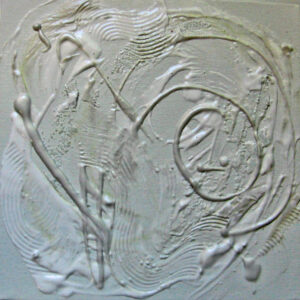 We then dried our textured canvases in the full Arizona sun for several hours. Later in the day we poured Acrylic Inks and the new Golden High Flow Acrylic colors on our textured canvases. We spread the colors using various means – old credit cards, palette knives and simply tilting the canvas one way or another. What fun we had! This is my result: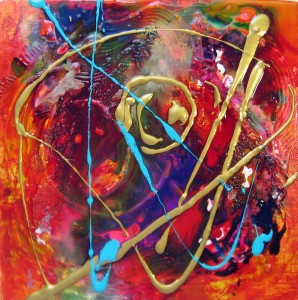 My student will return for her next class to develop her painting, but I decided to continue mine. Usually in my Horse Series paintings I outline the horses I envision using a stick and India Ink, but this time I decided to just paint a background color behind the horses I saw. I was happy to "discover" 2 horses nudging each other and developed this theme by adding lighter tones each time I painted around the horses. I was very happy with the resulting painting you see at the beginning of this Blog. Friends on Facebook helped me name the painting this link. Do you think it fits? If you want to see other similar horse-inspired paintings, please visit the Horses Section of this site actionac.net.
If you decide you would like some one-on-one instruction, simply respond to this Blog or give me a call at my Surprise Studio: 623-487-4031. I will be happy to teach you techniques to get you started in either Watercolor or Acrylics, or help you develop your style! Instruction fee is $20 per hour for a three hour minimum.