Continuing painting demonstration, day 4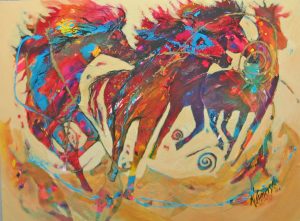 Here we are at day 4 of the painting process and as you can see I have worked back into the lower portion. Basically I made the small Uptown Jungle horses less important by partially painting over them.
Their shapes now read as a landscape at a quick glance. I also added some turquoise streaks. Closer observation will reward the viewer with horse shapes. Now the title "New Horizons" makes sense and I'm happy with this. I will once again look at it over the next 24 hours to see if any refinements are needed. What do you think about this painting?